| | |
| --- | --- |
| | X-venturer presents Gunung Stong & Gunung Ayam Trek |
---
The tallest Waterfall in South East Asia - Stong
This waterfall can be seen from miles away while you are still in the train. Be welcomed by the sheer rock face that rises 200 metres where the water flows down. On a clear way, you can catch a magnificent sunrise from the campsite itself.
Trekking further up to Gunong Stong and Ayam will bring you more cascades and waterfalls.
nbsp; And this is not all, this trek is not complete without a visit to the nearby caves -one of the oldest caves in the world.
Check these out....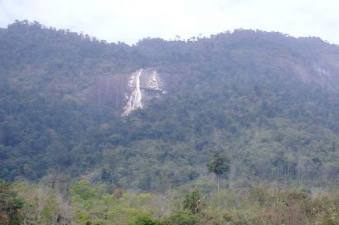 Long before entering the town of Dabong, from the east, this waterfall can be seen over 8 kilometers away. It releases water from the Stong Mountain Range at a saddle. The word "Stong" actually derived from the English word "stone" Early travelers were fascinated that the mountain range is made up of one huge boulder. The name of "stone hill" was gradually accepted and cut short to "Stong"!
Reachable by road from the new Gua Musang/Kuala Krai Trunk Road, we will arrive at Dabong, a tiny town at Kelantan,by an overnight train.
This is a quaint township with almost no traffic and narrow roads. From the train station, it is a 5 minutes walk to boat crossing at Sungei Galas. Van will transport us to the resort.
| | |
| --- | --- |
| Though not officially confirmed, reliable sources had claimed that the Stong Waterfall is about 270 meters tall, making it the tallest in SouthEast Asia. [see below] | |
From the compound of the resort, a 10 minute climb will take you to the bottom of the main waterfall. Here the water from the wet seasons have made a gigantic clearings in the rock face.

Watch the sky as we are going to spend a night at the camp site. Water will fill the place rather swiftly

The picture [left under] very beautiful and clear shots are donated.
The water overflowing over a protrusion or ledge before hurling down the near vertical cliff wall.

The actual scene is very dramatic, see our model on the right photograph on top!
This is the mainscene but not the only one
Here is a cute little waterfall in the midst of the rack face where one can have a swell time to play in the tiny deep pool

Another trail leads to the top of this main waterfall, and with more trekking? Another 6 waterfalls!
| | |
| --- | --- |
| From the base camp, we will climb around the main waterfall, upstream to find more waterfalls. The rest of the days we will hike up to Gunong Stong and Gunong Ayam. | |
| | This picture shows the administrative office of Stong Perdana Resorts.. |

If you are excited about the trip, go to Gunung Stong & Ayam trek for more information about the trip.