Trekking in Gunung Belumut with X-Venturer from 13th - 14th April 2002
Gunung Belumut is an easily accessible mountain and it is 3313ft/1010m tall. The estimated distance from the foot to the top is 12km.
Trekkers: Gloria, Mabel, Stanley, Poh Heng, Erik, Debbie, Wei Peng, Lynnis, Marcus, Dawn, Chan Hong, Debbie, Kian Beng, Irene, Jenny, Kia, Hsiao Feng, Wei Quan, Vicent, Roland, Soo Li, .Chin Ee, Wee Sun, Lor Yin & Abigail
Special thx to Debbie for the contribution of the photos.
Itinerary
Day 01(13th April)
0700 Meet at Tanjong Pagar Train Station
0815 Board train to Kluang
1030 Arrive at Kluang & transfer by taxi
1200 Rest for lunch
1300 Pitch tent at base because of Tiger ROAR was heard at the summit
1400 Warm up - short trekking
1630 Rest & Relax
1800 Prepare dinner
2000 Games Time & Desert
2200 Sleeping Time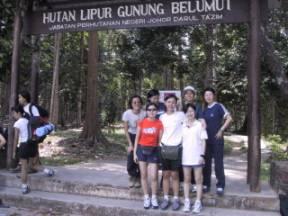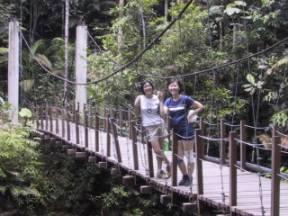 Base of Gunung Belumut Poh Heng & Soo Li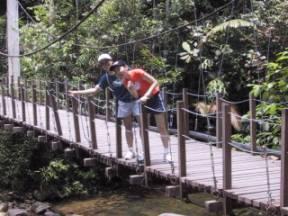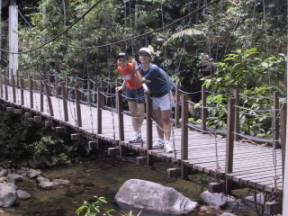 Water Here I Come!! A nice pose at the bridge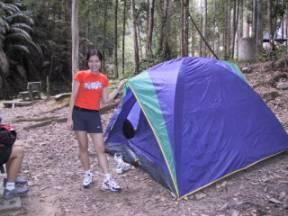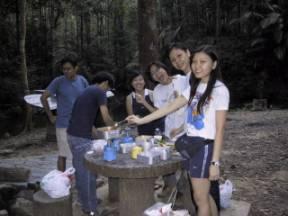 This is my sleeping tent Look's what we are cooking?!?!?
Day 02(14th April)
0630 Rise & Shine
0700 Breakfast & pack sandwich for lunch
0730 Trek to Summit
1130 Reach Summit. Photo taking and lunch time
1200 Descend
1530 Reach base
1630 Leave Belumut to Kluang
1800 Leave Kluang to JB
2000 Reach JB causeway
2200 Reach HOME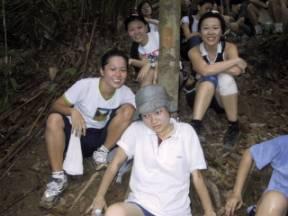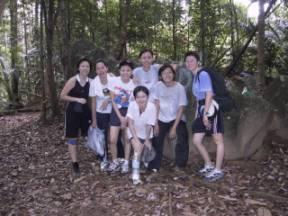 Very Tired. Lets take a break Resting Point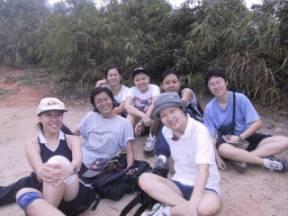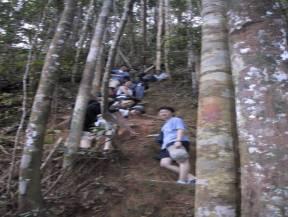 False Summit Very Steep slope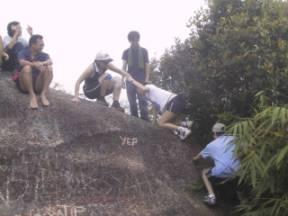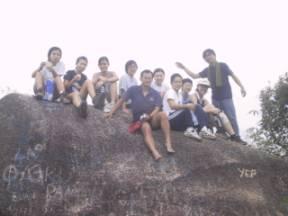 Pull Me Up Taking Photo at Pinnacle (Summit)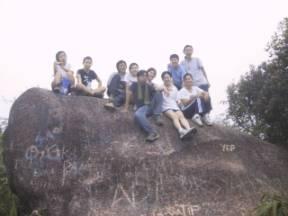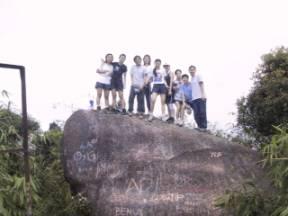 Enjoying the view at Pinnacle Womans' POWER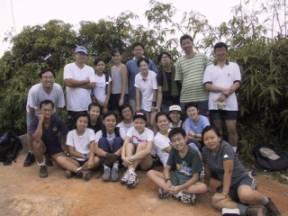 Group Photo View from Summit
Another view from Summit Look!! Steep slope below!!